Rolls Royce Repair Services
Welcome to Meta Mechanics: Your Trusted Rolls Royce Repair Specialist in Dubai!
As the leading Rolls-Royce repair and service center in Dubai, we take great pride in delivering top-notch automotive solutions for luxury vehicles. Rolls-Royce is undeniably one of the most iconic and prestigious brands in the automotive world, and we understand the intricate details of Rolls-Royce's repair and service.
Understanding Rolls-Royce Luxury
Rolls-Royce vehicles represent the epitome of luxury, elegance, and craftsmanship. Every aspect of a Rolls-Royce vehicle exudes excellence, from its meticulously handcrafted interiors to its powerful and refined engine. As a proud owner of a Rolls-Royce, it is essential to understand the unique qualities that set this brand apart and necessitate specialized care during repair and service.
Maintenance and Servicing Guidelines
Regular maintenance is crucial to preserve the flawless performance and impeccable condition of your Rolls-Royce. At Meta Mechanics, we provide the following essential guidelines for your Rolls-Royce repair and service needs:
Scheduled Servicing
Adhering to the manufacturer's recommended service intervals is vital for the optimal functioning of your Rolls-Royce. These intervals typically include inspections, fluid checks, filter replacements, and other essential maintenance tasks. By keeping up with scheduled servicing, you ensure that your vehicle remains in top shape and minimize the risk of potential issues.
Genuine Parts and Accessories
Using genuine Rolls-Royce parts and accessories is imperative to maintain the integrity and performance of your vehicle. Genuine parts are specifically designed and engineered for your Rolls-Royce model, guaranteeing a perfect fit and uncompromising quality. At Meta Mechanics, our expert technicians are well-versed in identifying and utilizing genuine Rolls-Royce parts during repairs and replacements, ensuring that your vehicle receives the highest standard of care.
Professional Technicians
When it comes to Rolls-Royce repair and service, entrust your vehicle only to highly skilled and certified technicians. At Meta Mechanics, our team of experienced professionals possesses in-depth knowledge of Rolls-Royce vehicles and the latest repair techniques. With their expertise, they can accurately diagnose any issues and perform repairs with meticulous attention to detail, ensuring your vehicle receives the care it deserves.
Common Rolls-Royce Repair Issues
While Rolls-Royce vehicles are renowned for their exceptional reliability, occasional repairs may still be necessary. At Meta Mechanics, our highly skilled technicians are well-prepared to handle the following common Rolls-Royce repair issues:
Suspension System
The sophisticated suspension system in Rolls-Royce vehicles plays a vital role in delivering a smooth and comfortable ride. Over time, components such as air springs and shock absorbers may experience wear and tear. Our technicians possess extensive knowledge of Rolls-Royce suspension systems and can diagnose and repair any issues efficiently, ensuring that your vehicle maintains its exceptional ride quality.
Electrical System
Rolls-Royce vehicles boast cutting-edge electrical systems that power various features and technologies. However, electrical malfunctions can occur due to damaged wiring, faulty sensors, or other related issues. At Meta Mechanics, our skilled technicians employ advanced diagnostic tools to identify and rectify electrical problems, ensuring your vehicle's intricate systems operate flawlessly.
Engine Performance
The heart of every Rolls-Royce vehicle is its powerful engine, and any performance-related issues must be promptly addressed. Whether it's a decrease in power, unusual noises, or warning lights, our technicians have the expertise to diagnose and repair engine-related problems efficiently. We employ state-of-the-art equipment to ensure your engine operates at its peak performance, delivering the power and refinement you expect from your Rolls-Royce.
The Importance of Regular Inspections
In addition to scheduled maintenance, regular inspections are paramount in detecting potential issues before they escalate. At Meta Mechanics, our comprehensive inspections cover various aspects, including:
Braking system checks
Tire condition and alignment assessments
Fluid-level inspections and replacements
Battery health evaluations
Exhaust system examinations
By conducting thorough inspections, we can identify minor concerns and address them promptly, preventing larger, costlier problems down the road.
Our Commitment to Excellence
At Meta Mechanics, we take immense pride in delivering unparalleled Rolls-Royce repair and service. Our commitment to excellence, combined with our expertise and dedication to customer satisfaction, sets us apart. Entrust your Rolls-Royce vehicle to us, and we will ensure it receives the care and attention it deserves, allowing you to enjoy the pinnacle of luxury driving for years to come.
Rolls-Royce Repair and Service in Dubai
Maintaining the peak performance and pristine condition of your Rolls-Royce vehicle necessitates expert repair and service. At Meta Mechanics, we provide the highest standard of care for your Rolls-Royce repair and service needs in Dubai. By following the maintenance guidelines, relying on genuine parts, and entrusting your vehicle to our skilled technicians, you can rest assured that your Rolls-Royce will receive the utmost attention and care it deserves.
For all your Rolls-Royce repair and service needs, choose Meta Mechanics – your trusted partner in luxury automotive excellence. Contact us today by calling +9714325 5117 or +971569970017 to schedule an appointment. You can also visit our appointment page to book an appointment.  
We at Meta Mechanics pride ourselves on offering personalized attention to each of our valued customers. When you bring your Rolls Royce to Meta Mechanics, whether it's a Rolls Royce Phantom, Rolls Royce Ghost, Rolls Royce Cullinan, or any other model, you can expect exceptional customer service and a commitment to excellence. Our team will diagnose any issues with your vehicle accurately and efficiently.
Therefore, if you need any service & are searching for the best Rolls Royce workshop in Dubai or Rolls Royce garage in Dubai, then call Meta Mechanics for free Rolls Royce pickup and free inspection anywhere in Dubai (conditions apply).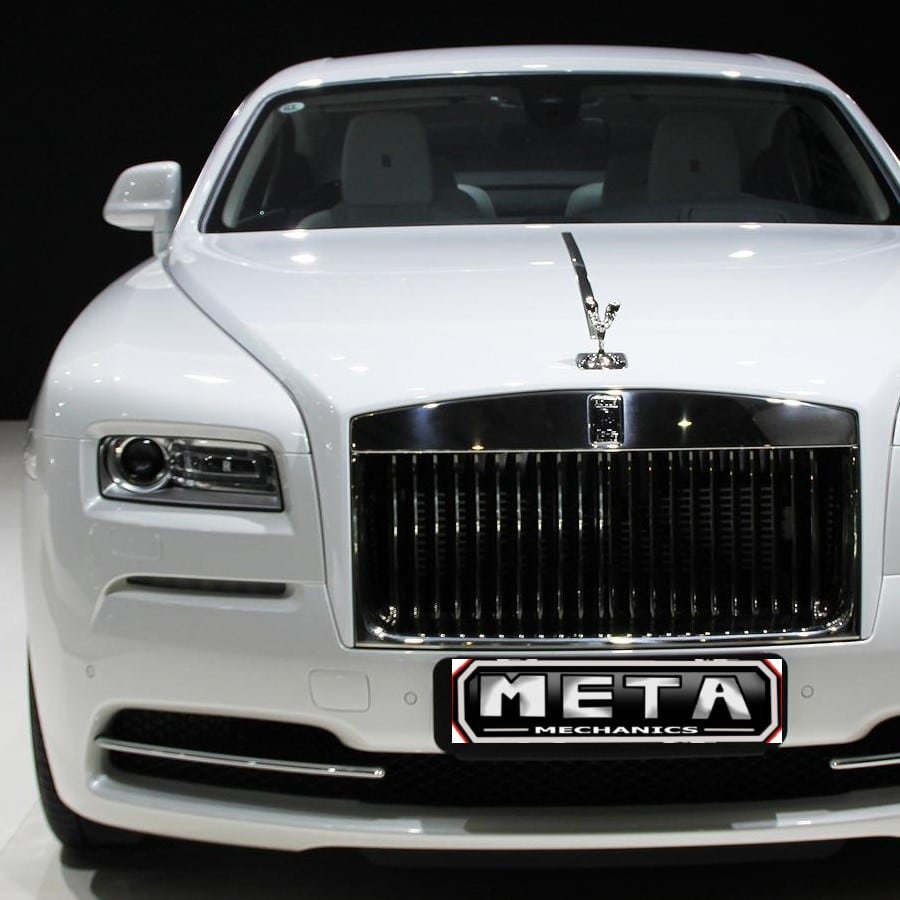 Frequently Asked Questions
Q: What services does Meta Mechanics offer for Rolls Royce repairs?
A: Meta Mechanics is a Rolls Royce dealer's alternative repair center in Dubai. We offer a wide range of services for Rolls Royce cars, including:
Rolls Royce engine repair
Rolls Royce oil check & change
Rolls Royce battery inspection
Rolls Royce brake repair
Rolls Royce AC filter check & change
Rolls Royce transmission repair
Rolls Royce gearbox inspection
Rolls Royce suspension repair
Rolls Royce spark plugs check & change
Rolls Royce steering & alignment check
Rolls Royce electrical complete check
Rolls Royce tinting
Rolls Royce detailing
Rolls Royce PPI (Pre-purchase Inspection)
Rolls Royce wheel refurbishment
Rolls Royce convertible roof repair
Rolls Royce body repair
Rolls Royce computer diagnostic & scanning
Rolls Royce recovery pickup & delivery
Rolls Royce ceramic coating and paint protection
Rolls Royce dent removal
Rolls Royce polish
Rolls Royce disinfection
Rolls Royce complete wash
Q: What is the average cost of Rolls Royce repair in Dubai?
A: The cost of Rolls Royce repair in Dubai can vary depending on the type of repair needed and the model of the car. Common repairs such as regular maintenance, brake replacements, and minor electrical repairs may have a lower cost compared to major engine or transmission repairs.
Q: How often does a Rolls Royce require an oil change?
A: It is recommended that Rolls-Royce owners get their oil changed every 5,000 kms to 8000 kms. Even if you don't drive often, it is important to have your Rolls-Royce serviced regularly, as old engine oil can break down over time and become thick and sludgy.
Q: How much does it cost to service a Rolls Royce in Dubai?
A: The cost of servicing a Rolls-Royce will vary depending on the specific model and year of the car, as well as the type of service that is needed. However, in general, you can expect to pay several hundred AED for a basic service, and several thousand AED for a major service.
Here are some of the factors that can affect the cost of servicing a Rolls-Royce:
Model and year: Older Rolls-Royce models may require more frequent and more expensive servicing than newer models.
Type of service: Basic services, such as oil changes and tire rotations, are typically less expensive than major services, such as engine overhauls and transmission repairs.
Q: How much does Rolls Royce oil change cost in Dubai?
A: The cost of a Rolls Royce oil change in Dubai can vary depending on the type of Rolls Royce you have and the oil needed for the change. However, you can expect to pay anywhere from AED 1250 to AED 2500 for an oil change.