Car Detailing Services 
When preserving your beloved vehicle's beauty and value, look no further than Meta Mechanics. Our name is synonymous with excellence in the world of car detailing in Dubai. We understand that your vehicle is more than just a mode of transportation; it's an extension of your personality and a symbol of your status. That's why we take immense pride in our ability to bring out the best in your vehicle through our comprehensive interior and exterior car detailing services.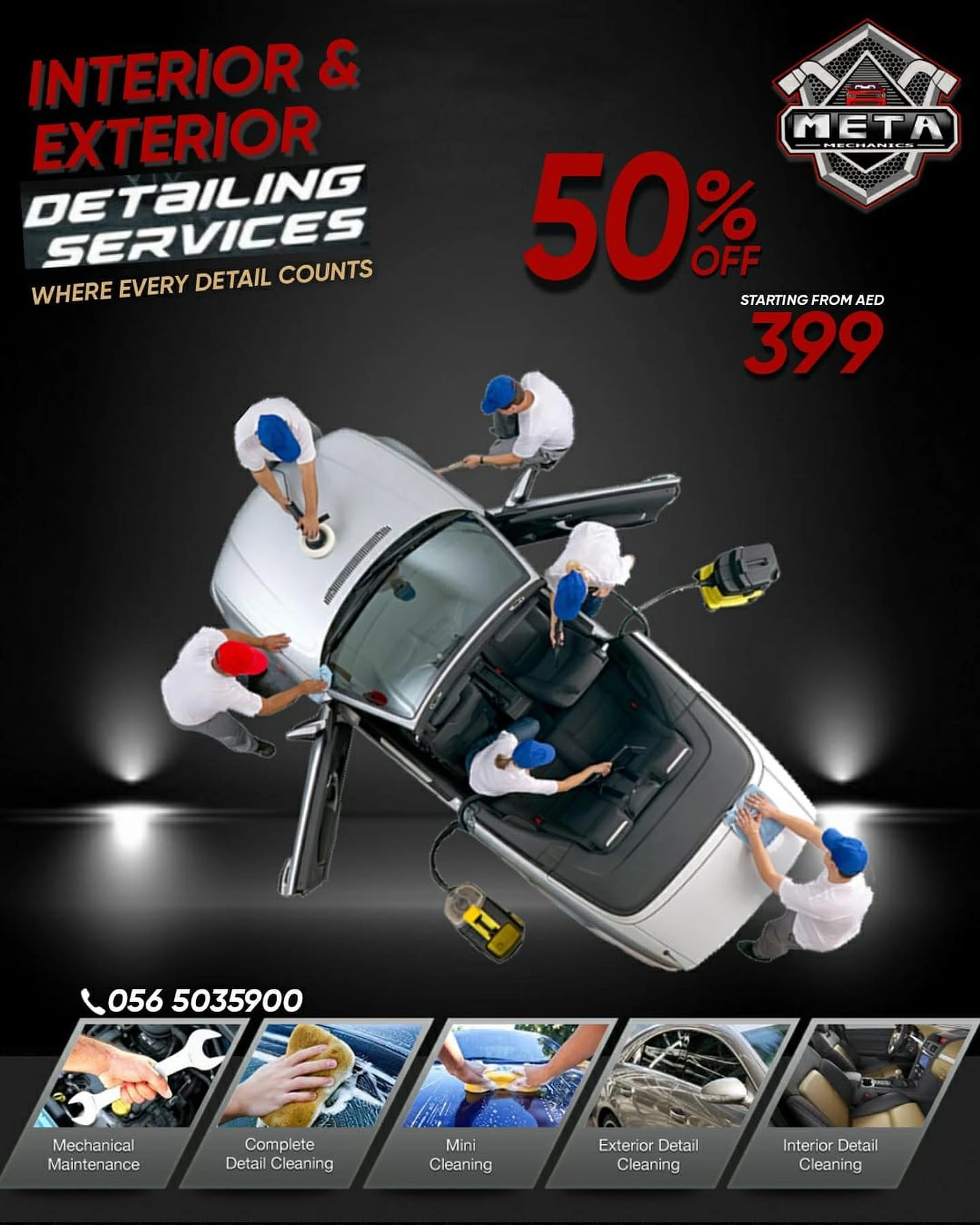 Interior Car Detailing
Our interior car detailing service is designed to rejuvenate your vehicle's interior, leaving it clean, fresh, and inviting. We pay meticulous attention to every detail, ensuring no corner is untouched.
What's Included in Our Interior Car Detailing:
Complete car shampoo
Car carpet & floor mats
Comprehensive cleaning through special brushes
Panel detailing
Windows & sunroof
Car knobs and switches
Side, back, and front mirror
Seat upholstery and belts
Door handles
Steering
Dashboard
Complete Car Shampoo: We understand that life's adventures can leave their mark on your car's interior. That's why we start with a thorough car shampoo, removing dirt, stains, and odors and leaving your carpets and floor mats looking and smelling like new.
Comprehensive Cleaning: Our skilled technicians use special brushes and detailing tools to clean every nook and cranny, ensuring a spotless finish.
Panel Detailing: Your car's interior panels are more than just functional; they're part of the overall aesthetic. We clean and shine all interior panels, ensuring they look as good as the day you bought your car.
Windows & Sunroof: Crystal-clear windows and a sunroof free of streaks are guaranteed after our interior detailing.
Car Knobs and Switches: Smooth operation of your car's functions starts with clean and sanitized knobs and switches.
Side, Back, and Front Mirror: We polish and clean all mirrors to ensure optimal visibility.
Seat Upholstery and Belts: Your seats and seatbelts will be thoroughly cleaned, and any stains or odors will be eliminated.
Door Handles: Even the most minor details matter to us. We clean and shine your door handles for a complete look.
Steering: A clean and sanitized steering wheel is essential for both aesthetics and safety. We ensure it's both clean and safe to touch.
Dashboard: The dashboard is a focal point of your car's interior. We clean and condition it, restoring its original shine without leaving a greasy residue
Meta Mechanics Car Detailing Portfolio
Exterior Car Detailing
The exterior of your car is its face to the world, and it deserves to make a lasting impression. Our exterior car detailing services are designed to bring back the showroom shine to your vehicle. We take care of everything from thorough cleaning to protecting your car's paint.
What's Included in Our Exterior Car Detailing
Thorough car wash
Shampoo and Cleaning
Removal of dust, stains, dirt marks & road tar
Wheel and rim cleaning
Clean door jams
Bumper and chassis wash
Auto exterior dressing
Durable carnauba wax
Polishing
Thorough Car Wash: We start with a comprehensive car wash using premium, pH-balanced soaps to remove dirt, stains, and contaminants.
Shampoo and Cleaning: Our skilled technicians use specialized products to remove tough stains, dirt marks, and road tar from your car's exterior.
Wheel and Rim Cleaning: Your wheels and rims will receive special attention to ensure they shine like new.
Clean Door Jams: We pay attention to the often-neglected areas like door jams, ensuring a clean and consistent appearance.
Bumper and Chassis Wash: We clean your car's bumper and chassis to remove dirt and grime buildup.
Polishing: Our skilled technicians perform polishing to remove imperfections and enhance your car's overall appearance.
Why Choose Meta Mechanics for Car Detailing in Dubai?
Experience
With years of experience in the industry, Meta Mechanics has established itself as a trusted name in the world of car detailing in Dubai. Our team of skilled technicians has a proven track record of delivering exceptional results.
Quality Products
We understand that the safety of your vehicle and the environment is of utmost importance. That's why we use only high-quality, eco-friendly products in all our car detailing services. Your vehicle deserves nothing but the best.
Convenient Locations
We know that convenience matters, which is why you can find a Meta Mechanic car detailing center conveniently located in Al Quoz Dubai. No matter where you are, Meta Mechanics is near you.
Competitive Pricing
At Meta Mechanics, we believe that exceptional car detailing should be accessible to everyone. That's why we offer competitive pricing without compromising on the quality of our services. We believe in delivering great value for your money.
Elevate Your Driving Experience with Meta Mechanics
 Your car is more than just a vehicle; it reflects your taste, style, and status. Please don't settle for anything less than perfection when it comes to car detailing. Choose Meta Mechanics and experience the difference that true expertise and dedication can make.
Visit our garage in Dubai for a transformational car detailing experience that will leave your car looking and feeling its best. For appointments and inquiries, reach out to us at +971 56 997 0017 or use our user-friendly online booking system.