Dodge Repair Dubai

Are you a proud Dodge owner in Dubai looking for reliable, professional repair services? Look no further than Meta Mechanics, your premier independent Dodge repair workshop in Dubai. With a commitment to excellence, customer satisfaction, and a team of highly skilled technicians, we are here to cater to all your Dodge repair needs in the UAE. Our state-of-the-art facilities and dedication to using genuine Dodge parts ensure that your vehicle receives the highest level of care and expertise.
List of Dodge Repair Services in Dubai
At Meta Mechanics, we offer a comprehensive range of Dodge repair services tailored to meet the needs of all Dodge models. Whether you drive a powerful Charger, a versatile Durango, a spacious Journey, or any other Dodge vehicle, our skilled technicians have the knowledge and expertise to handle any repair or maintenance task. Our services include, but are not limited to:
Routine Maintenance
Regular maintenance is essential to keep your Dodge running smoothly and efficiently. Our skilled technicians perform oil changes, filter replacements, fluid checks, and tire rotations to ensure your Dodge remains in optimal condition.
Engine Repairs
If your Dodge is experiencing engine issues, our experts are here to help. We diagnose and repair engine problems, whether it's a minor repair or a complete engine overhaul, to restore your Dodge's performance and reliability.
Transmission Repairs
The transmission is a critical component of any vehicle, and our technicians specialise in transmission repairs for Dodge models. From minor repairs to complete transmission replacements, we ensure your Dodge's transmission operates flawlessly.
Brake Services
Your safety is our top priority, which is why we provide comprehensive brake services for Dodge vehicles. Our technicians inspect, repair, and replace brake components, including brake pads, rotors, and callipers, to ensure your Dodge stops efficiently and reliably.
Electrical System Repairs
Dodge vehicles are equipped with advanced electrical systems, and our technicians have the expertise to diagnose and repair electrical issues. Whether it's a faulty wiring connection, malfunctioning sensors, or a malfunctioning entertainment system, we have you covered.
Suspension and Steering Repairs
If you're experiencing issues with your Dodge's suspension or steering, our skilled technicians can diagnose and repair the problem. We ensure that your Dodge provides a smooth and comfortable ride while maintaining optimal handling and control.
Air Conditioning and Heating Services
Our technicians are well-versed in Dodge AC repair. Whether it's repairing a faulty AC compressor or fixing a heater issue, we ensure your Dodge's comfort systems are working efficiently.
Diagnostic Services
Our advanced diagnostic equipment allows us to quickly and accurately identify any issues with your Dodge. We use cutting-edge technology to pinpoint problems, providing you with accurate assessments and efficient repairs.
Complete List of Dodge Repair and Maintenance Services
| | |
| --- | --- |
| Service | Description |
| Dodge Engine Repair | Comprehensive repair, rebuilding, or overhauling of Dodge engines to ensure optimal performance. |
| Dodge Transmission Repair & Replacement | Repairing or replacing faulty Dodge transmissions to restore proper function. |
| Dodge Suspension System Repair | Repairing components of the suspension system to enhance ride comfort and handling. |
| Dodge Steering System Repair | Rectifying problems in the steering system to ensure safe and precise vehicle control. |
| Dodge Wheel Alignment | Adjusting the angles of the wheels to manufacturer specifications for proper alignment. |
| Dodge Electrical Diagnostics | Using diagnostics to identify and resolve electrical issues in Dodge vehicles. |
| Dodge Computer Diagnostic Testing | Conducting electronic tests to diagnose and fix computer-related problems in Dodge cars. |
| Dodge A/C Repair | Repairing and restoring the air conditioning system in Dodge vehicles for effective cooling. |
| Dodge Battery Replacement | Removing old batteries and installing new ones to ensure reliable starting and power. |
| Dodge Fuel System Repair | Rectifying issues with the fuel system to ensure proper fuel delivery and engine performance. |
| Dodge Exhaust System Repair | Repairing or replacing parts of the exhaust system to reduce emissions and noise. |
| Dodge Body Accident & Paint Repair | Repairing body damage and restoring paint after accidents or collisions. |
| Dodge Paint Touch-Up and Polish | Applying touch-ups and polish to maintain or restore the paint finish on Dodge vehicles. |
| Dodge Interior Cleaning and Detailing | Thoroughly cleaning and detailing the interior of Dodge vehicles for a fresh look and feel. |
| Dodge Vehicle Preventative Maintenance | Performing regular maintenance tasks to prevent potential issues and prolong Dodge's lifespan. |
Dodge Workshop in Dubai
It starts with us picking up your Dodge from your home or office for free anywhere in Dubai (Conditions apply). Our technicians will then analyze your vehicle, keeping your complaints in mind.
You will get a transparent and fair estimate with a complete cost breakdown. Once we have your approval, we will begin working on your Dodge and fix all issues summarized in our initial assessment and estimate.
Once everything has been fixed, we conduct a final road test to ensure everything works as it should. Finally, Meta Mechanics will wash and vacuum your Dodge and deliver it to you anywhere in Dubai.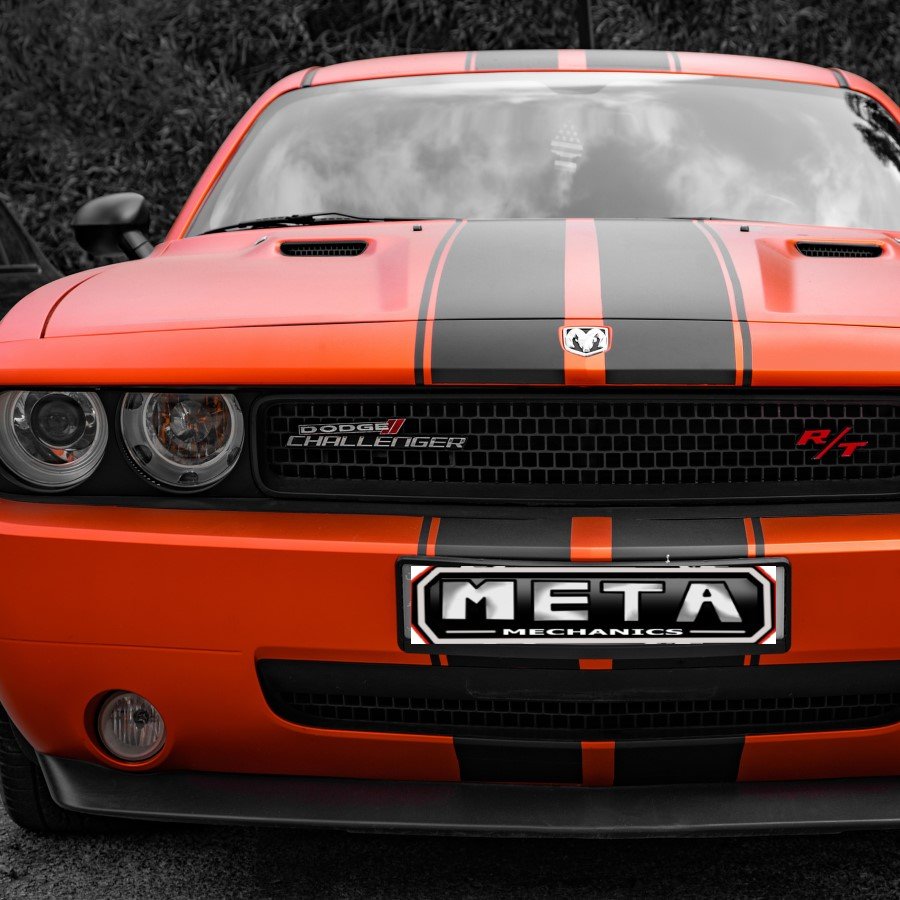 Why Choose Meta Mechanics for Your Dodge Repair in Dubai?
There are several compelling reasons to choose Meta Mechanics as your trusted Dodge repair and service center:
Expert Dodge Technicians
Our technicians undergo rigorous training and possess extensive experience in servicing Dodge vehicles. They are knowledgeable in the intricacies of Dodge models, ensuring accurate diagnoses and efficient repairs.
Genuine Dodge Parts
We understand the importance of using authentic Dodge parts for repairs and replacements. At Meta Mechanics, we only use genuine Dodge parts to ensure the highest quality and compatibility with your vehicle.
State-of-the-Art Facilities
Our repair facility is equipped with the latest tools, equipment, and technology to provide precise and efficient repairs for your Dodge. We stay up-to-date with advancements in automotive technology to deliver exceptional results.
Commitment to Customer Satisfaction
At Meta Mechanics, customer satisfaction is at the core of everything we do. We strive to provide transparent communication, honest recommendations, and exceptional service to ensure complete satisfaction.
Convenient Scheduling
We understand that your time is valuable. That's why we offer convenient scheduling options to fit your busy lifestyle. Our friendly and knowledgeable staff will assist you in booking an appointment that suits your convenience.
Competitive Pricing
We believe that quality Dodge repair services should be accessible to all Dodge owners in Dubai. That's why we offer competitive pricing without compromising on the quality of our workmanship.
Experience the Meta Mechanics Difference
When it comes to Dodge repair services in Dubai, Meta Mechanics is your trusted partner. We are dedicated to providing top-notch repairs, exceptional customer service, and peace of mind for all Dodge owners. Don't entrust your valuable Dodge to just any repair shop—experience the Meta Mechanics difference today.
Contact us to schedule your Dodge repair or maintenance service appointment or avail our car home repair services in Dubai. So, if you want to avail our dodge repair services in Dubai, call us at +971569970017 or +97143255117. You can also schedule an appointment by clicking here. 
Frequently Asked Questions
How frequently should I schedule maintenance for my Dodge?
To ensure proper maintenance, it is generally recommended to service your Dodge vehicle every 10,000 kilometers or 12 months, whichever comes first. However, keep in mind that this interval may vary based on your driving habits and the road conditions you encounter.
What are some common repairs for Dodge vehicles?
Frequent repairs for Dodge vehicles include:
Dodge Engine Repair Dubai
Dodge Transmission Repair Dubai
Dodge Brake Repair in Dubai
Dodge Electrical System Repairs
Dodge Exhaust System Repairs in Dubai
Dodge Suspension repairs
Dodge AC Repair Dubai
Dodge Dent Repair Dubai
What are the indicators that my Dodge may require repairs?
Here are some signs that your Dodge may require repairs:
Engine knocking or overheating
Squealing or grinding noises from the brakes
Electrical issues such as malfunctioning lights or a drained battery
Exhaust leaks
Suspension problems resulting in a bumpy ride or pulling sensation
A/C issues such as insufficient cooling or blowing hot air
Body damage such as dents, scratches, or rust
What are the advantages of having my Dodge repaired at a specialized Dodge repair shop?
Choosing a specialized Dodge repair shop offers several benefits, including:
Technicians who are familiar with the intricacies of your specific Dodge model, leading to quicker and more accurate diagnoses and repairs.
The use of genuine Dodge parts, ensuring high-quality repairs that meet the manufacturer's standards.
Potential warranty coverage on the repairs, providing peace of mind.
What are the typical costs of Dodge repairs in Dubai?
The costs of Dodge repairs in Dubai can vary depending on the type and severity of the repair, as well as the parts needed for replacement. However, in general, Dodge repairs in Dubai are often reasonably priced.
How can I locate a reliable Dodge repair shop in Dubai?
To find a reputable Dodge repair shop in Dubai, you can consider the following methods:
Seek recommendations from friends, family, or colleagues who own Dodge vehicles.
Check online reviews and ratings of Dodge repair shops in Dubai.
Get in touch with the official Dodge dealership in Dubai for their recommended repair facilities or you can visit the Meta Mechanics workshop in Al-Quoz Industrial area 3 Dubai, UAE.
Contact Us