Are you looking for the best and most reliable Land Rover / Range Rover Repair & Service in Dubai? You have landed in the right place – our Land Rover / Range Rover specialists will work through each process step seamlessly and smoothly. We cover everything from general Land Rover and complete inspections to bodywork, engine repair, and modifications.
Luxury vehicles like Range Rovers deserve specialized care to maintain their optimal performance and longevity. In Dubai, discerning Range Rover owners turn to Meta Mechanics, the leading destination for Range Rover repair and maintenance services. With a team of expert technicians, state-of-the-art facilities, genuine OEM parts, transparent communication, and a customer-centric approach, Meta Mechanics has earned its reputation as the go-to service center for luxury vehicle owners.
Reasons to Choose Meta Mechanics for Land/Range Rover Repair in Dubai
Choosing Meta Mechanics for Range Rover repair needs is a wise decision as we offer a comprehensive range of repair services for all Land Rover Cars in Dubai.
Specialized Expertise
When it comes to luxury vehicles, generic repair shops may lack the necessary expertise to handle the unique complexities of a Range Rover. At Meta Mechanics, our technicians undergo rigorous training specifically for handling Range Rover vehicles. This specialized expertise allows them to accurately diagnose and repair any issue that may arise. Whether it's engine diagnostics, brake system maintenance, suspension and steering repair, or electrical system troubleshooting, our skilled technicians have the know-how to get the job done right the first time.
State-of-the-Art Facility
Meta Mechanics' workshop is equipped with the latest diagnostic tools and advanced equipment to provide Range Rovers with the highest standard of care. Modern luxury vehicles are equipped with sophisticated technology, and Meta Mechanics ensures that their facilities are up-to-date to meet the demands of these vehicles. From computer diagnostics to precision repairs, our facility is well-prepared to handle any maintenance or repair task that a Range Rover might require.
Genuine OEM Parts
Luxury vehicles like Range Rovers are built with precision and require top-quality components to maintain their performance and integrity. At Meta Mechanics, we understand the value of your luxury vehicle, which is why they exclusively use genuine OEM parts in all their repairs. By using authentic parts, they ensure that the vehicle's performance is not compromised and that it maintains its original factory standards.
Transparent Communication
At Meta Mechanics, building trust with their clients is a core value. We believe in clear and transparent communication with their customers. When you bring your Range Rover to our workshop, we will take the time to explain the repair process, the associated costs, and provide regular updates on your vehicle's status. This level of transparency helps customers make informed decisions about their vehicle's maintenance and repairs.
Customer-Centric Approach
Customer satisfaction is paramount at Meta Mechanics. We take a customer-centric approach, which means we prioritize addressing their clients' concerns, offering personalized solutions, and ensuring a seamless customer experience. From the moment you step into their workshop to the completion of the repair, you can expect friendly and attentive service.
Range Rover Repair Services in Dubai
Meta Mechanics offers a comprehensive range of services to keep your Range Rover operating at its best. Here are some of the key services they provide:
Engine Diagnostics and Repairs
The engine is the heart of any vehicle, and luxury vehicles demand meticulous care. Meta Mechanics' advanced diagnostic tools accurately identify car engine issues, from minor hiccups to more complex problems. Our skilled technicians can address any Range Rover engine-related concerns, ensuring that your Range Rover performs at its best.
Brake System Maintenance and Repairs
The braking system is crucial for safety and performance. Meta Mechanics' technicians are well-versed in maintaining and repairing Range Rover brake systems, ensuring optimal stopping power and safety on the road.
Suspension and Steering System
A comfortable and smooth ride is essential for luxury vehicle owners. Meta Mechanics inspects and repairs suspension and steering components to provide you with a luxurious driving experience.
Transmission Services
Whether your Range Rover has an automatic or manual transmission, our experts can diagnose and repair transmission issues promptly, ensuring your vehicle's smooth operation.
Air Conditioning and Climate Control
The scorching temperatures in Dubai make a functional air conditioning system a necessity. If your AC is not performing optimally, Meta Mechanics' skilled technicians can diagnose and fix any air conditioning issues, allowing you to enjoy a comfortable drive.
Electrical System Troubleshooting
Luxury vehicles come equipped with complex electrical systems. From battery problems to intricate electrical issues, Meta Mechanics' team is well-equipped to handle all electrical system repairs, ensuring your Range Rover's electronic components function flawlessly.
Routine Maintenance and Inspections
Regular maintenance is key to extending the life of your Range Rover. Meta Mechanics provides comprehensive inspections and maintenance services to keep your vehicle in top shape, prevent potential issues, and maintain its resale value.
Bodywork and Paint Services
Minor scratches and dents can affect the appearance of your luxury vehicle. Meta Mechanics' skilled technicians can restore your Range Rover's exterior to its original glory, ensuring that it looks as impressive as the day you bought it.
Tire Services
Proper tire maintenance is crucial for safety and optimal performance. Meta Mechanics offers wheel alignment and wheel balancing services to maximize tire life and improve handling.
Land Rover Repair Specialists
It begins with us picking your Land Rover / Range Rover from your home or office for free anywhere in Dubai (conditions apply). Our technicians will then diagnose your vehicle comprehensively, keeping in mind your complaints. You will be notified at each process step and a detailed diagnostic report.
You will get a transparent and fair estimate with a complete cost breakdown. Once we have your permission, we will begin working on your Land Rover / Range Rover and fix all issues summarized in our initial assessment and estimate.
Once everything has been fixed, we conduct a final road test to ensure everything works as it should. Finally, Meta Mechanics will wash and vacuum your Land Rover / Range Rover and deliver it anywhere in Dubai.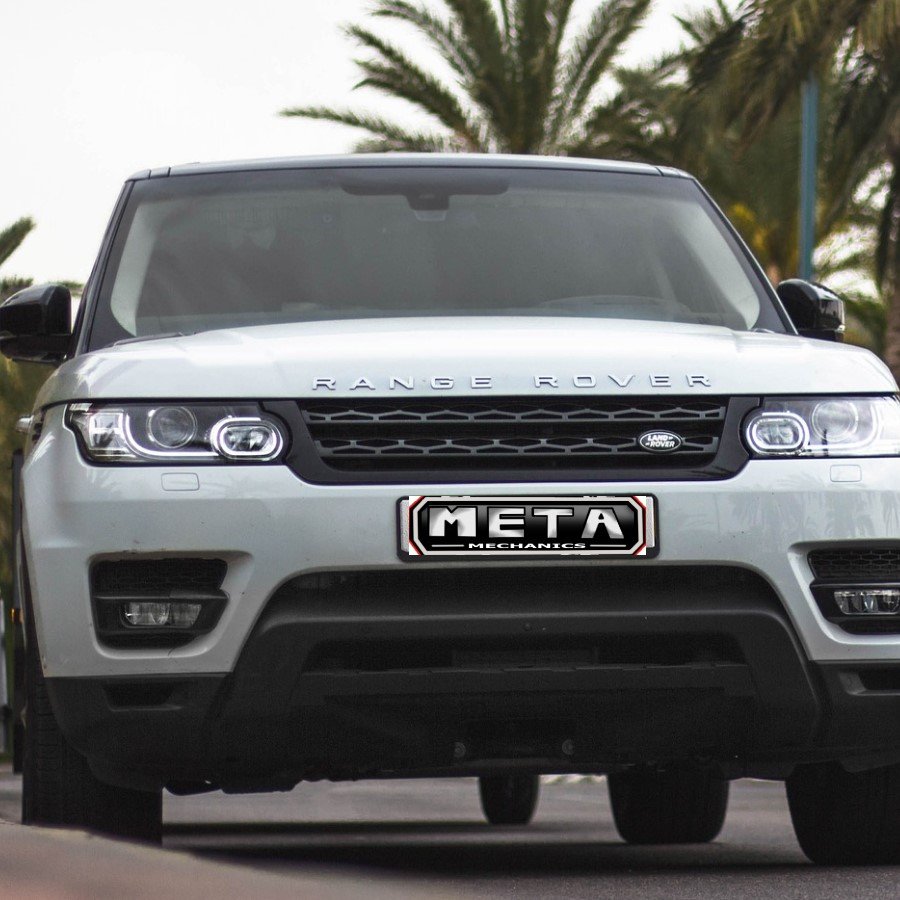 Frequently Asked Questions (FAQs)
To ensure our customers have all the information they need, here are answers to some commonly asked questions:
Are Range Rover expensive to repair?
Yes, Range Rovers are generally considered to be expensive to repair. This is due to a number of factors, including:
The use of complex and high-tech parts
The need for specialized tools and equipment
The high labor costs associated with repairing luxury vehicles
However, the average annual repair cost for a Range Rover is approximately AED 4,491.
Is Range Rover a high maintenance car?
Yes, Range Rovers are considered to be high maintenance cars. This is due to the same factors that make them expensive to repair. Additionally, Range Rovers are often driven in harsh conditions, which can lead to premature wear and tear on the vehicle.
Are parts expensive for Range Rovers?
Yes, parts for Range Rovers are generally considered to be expensive. This is because Land Rover uses high-quality parts that are designed to withstand the rigors of off-road driving. Additionally, Range Rovers are not as common as other luxury vehicles, which means that there is less competition for parts, which drives up the prices.
Are Range Rovers hard to fix?
Range Rovers are not necessarily difficult to fix, but they can be more complex than other luxury vehicles. This is because they use a number of advanced technologies, such as all-wheel drive and air suspension. Additionally, Range Rovers are often equipped with a variety of electronic features, which can make troubleshooting problems more difficult.
However, there are a number of qualified Range Rover mechanics who can diagnose and repair these vehicles. If you are considering buying a Range Rover, it is important to factor in the cost of repairs when making your decision.
How often should I service my Range Rover?
Regular maintenance is recommended every 6 months or 10,000 kilometers, whichever comes first. Regular servicing is vital to keep your Range Rover in peak condition and prevent major issues.
Do you service Land Rover vehicles as well?
Yes, Meta Mechanics caters to both Range Rover and Land Rover models. Our technicians are experienced in handling various luxury vehicles, ensuring comprehensive care for all Land Rover brands.
Are your repairs covered by a warranty?
Yes, Meta Mechanics provides a warranty on all their repairs. This warranty gives customers peace of mind, knowing that they are protected in case any issues arise after the repair.
Is it necessary to use genuine Range Rover parts?
Meta Mechanics highly recommends using genuine OEM parts to maintain the vehicle's performance and warranty. Genuine parts are specifically designed for your Range Rover, ensuring a perfect fit and optimal performance.
Can I wait at your facility during repairs?
Yes, Meta Mechanics has a comfortable waiting area with refreshments and free Wi-Fi. While your Range Rover is being serviced, you can relax and have peace of mind, knowing that your vehicle is in expert hands.
Do you offer pick-up and drop-off services?
Yes, Meta Mechanics provides convenient pick-up and drop-off services for your Range Rover. This service adds an extra layer of convenience, especially for busy individuals.
How long does a typical repair take?
The duration of a repair depends on the complexity of the issue. Meta Mechanics strives to complete repairs as quickly as possible without compromising on quality. We understand that their customers value their time, and their efficient service reflects that understanding.
Can I schedule an appointment online?
Absolutely! Meta Mechanics provides an easy-to-use online appointment booking system through our website. Customers can conveniently schedule Range Rover's service with just a few clicks.
Are your technicians certified?
Yes, all technicians at Meta Mechanics are highly trained and certified to work on Range Rover vehicles. Our expertise ensures that your luxury vehicle receives top-notch care.
Do you offer emergency roadside assistance?
Yes, Meta Mechanics provides emergency roadside assistance for Range Rover owners in Dubai. Our team is just a phone call away, ready to assist you in case of any unexpected breakdowns or issues.
Contact Us