Porsche Repair Dubai
Porsches are known for their performance, luxury, and style. But even the best cars need occasional repairs. If you're looking for a reliable and experienced Porsche repair shop in Dubai, look no further than Meta Mechanics.
We have been servicing Porsches in Dubai and have the expertise and equipment to get your car back on the road quickly and affordably. We use only genuine Porsche parts, and our technicians are highly trained and have the knowledge to handle all your Porsche repair needs.
For Meta Mechanics, no job is big or small, so we treat every client with dignity, love, and respect. Enjoy hassle-free Services of Porsche Repair in Dubai with free pick up and drop service. After booking Porsche Repair Service in Dubai from Meta Mechanics, you will be satisfied to find our detailed inspection and quality service levels.
Why Choose Meta Mechanics for Porsche Repair in Dubai?
Our Auto Workshop Dubai has set a remarkable trend in the industry, optimizing Porsche's performance with a guarantee. Through the holistic Services of Porsche repair in Dubai, we have made our workshop a leading Dealer Alternative Porsche Repair Center.
We are a dealer's alternative Porsche repair shop.
We use only genuine Porsche parts.
Our technicians are highly trained.
We are competitively priced.
We offer a convenient drop-off and pick-up service.
What Services Do We Offer?
We offer a wide range of Porsche repair services, including:
Porsche AC Repair
Porsche Computer Diagnosis
Engine and transmission repairs
Brake repairs
Suspension repairs
Electrical repairs
Bodywork repairs
Tires and wheels
Oil changes
General Maintenance
Common Porsche Repair Issues
There are a number of common Porsche repair issues that can occur. Some of the most common include:
Engine problems
Transmission problems
Brake problems
Suspension problems
Electrical problems
Bodywork damage
Tire problems
Oil leaks
How to Prevent Porsche Repair Problems
There are a number of things you can do to help prevent Porsche repair problems. Some of the most important things include:
Regularly scheduled maintenance
Careful driving
Avoiding harsh driving conditions
Using high-quality parts
Importance of Choosing a Reputable Porsche Repair Shop
If you do need to have your Porsche repaired, it is important to choose a reputable repair shop. A reputable repair shop will have the expertise and equipment to properly diagnose and repair your car. They will also use genuine Porsche parts, which will help to ensure that your car is repaired to the highest standards.
How Can We Help You?
If you're experiencing any problems with your Porsche, don't hesitate to contact us. We'll be happy to diagnose the problem and recommend the best course of action. To learn more about our Porsche repair services or to schedule an appointment, please contact us today. We look forward to helping you keep your Porsche in top condition.
Porsche's Leading Car Technicians
At Meta Mechanics, we firmly believe in brand specialization because every car brand today needs specialized expertise and tools for correct maintenance and repair. Hence, at our specialized Porsche workshop in Dubai, your Porsche will be serviced and repaired by certified Porsche specialists.
Meta Mechanics welcomes you if you are looking for Porsche Repair Service in Al-quoz Industrial Area 3 Dubai. No need to worry about your schedule or mess with a routine just for the Porsche Repair in Dubai – let us know your location and enjoy the magic of our complimentary pick-up.
Our team will examine your car thoroughly, generate a transparent report, and then after your permission; we will set our action plan. The company seeks to enhance the Porsche Service process in Dubai, so we promote the standards of our work quality and set new benchmarks.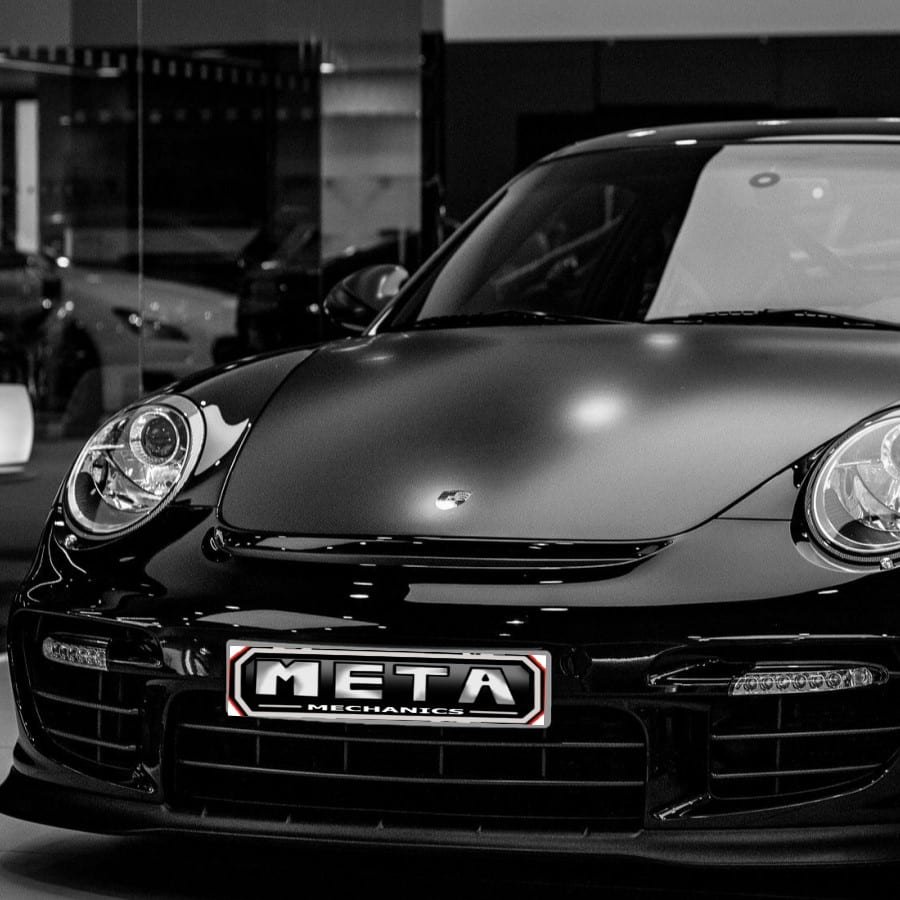 Porsche Repair Services Dubai at Meta Mechanics
Frequently Asked Questions
Are Porsches expensive to repair?
Yes, Porsches are generally considered to be expensive to repair.  The average annual repair cost for a Porsche is 1,192 USD ≈ 4,300 AED. However, this is just the estimate. The annual repair cost can be higher or lower than the cost mentioned above.
This is due to several factors, including the use of high-quality parts, the complexity of the car's engineering, and the high demand for Porsche parts and services.
How much does the average Porsche repair cost?
The average Porsche repair cost can vary depending on the severity of the issue, the model of the car, and the location of the repair shop. However, it is not uncommon for Porsche repairs to cost several thousand dollars.
Usually, the average Porsche repair cost:
Minor repair: 700 – 2,000 AED
Major repair: 2,000 – 10,000 AED
Please note that these are just estimates, and the actual cost of a Porsche repair can vary depending on the specific issue.
Are parts expensive for Porsche?
Yes, Porsche parts are generally considered to be expensive. This is because Porsche is a premium brand, and its parts are made to high standards. Additionally, the demand for Porsche parts is high, which drives up the prices.
What are the most common Porsche problems?
The most common Porsche problems in Dubai include engine problems, transmission problems, electrical problems, brake problems, and suspension problems.
How often should I bring my Porsche in for preventive maintenance?
The frequency of preventive maintenance depends on your driving habits and the age and condition of your car. However, it's a good idea to have your Porsche serviced at least once a year.
What are the benefits of preventive maintenance?
Preventive maintenance can help extend the life of your Porsche, improve its performance, and save you money on repairs down the road.
How do I find a qualified Porsche repair shop in Dubai?
There are a few things you can do to find a qualified Porsche repair shop in Dubai. First, ask your friends, family, and colleagues for recommendations. You can also search online for reviews of different shops. Finally, make sure the shop is certified to work on Porsches.
What are the average costs of Porsche repair in Dubai?
The average costs of Porsche repair in Dubai vary depending on the problem and the severity of the damage. However, you can expect to pay anywhere from a few hundred dirhams to several thousand dirhams for repairs.
Contact Us