Auto Body Shop Repair Services
At Meta Mechanics, we understand the importance of maintaining the exterior of your vehicle. Our auto body shop in Dubai is dedicated to ensuring that your car or truck looks as good as new, whether you've been in a fender bender or simply want to give your vehicle a fresh, appealing appearance.
Meta Mechanics is a specialized center that focuses on repairing and enhancing the appearance of vehicles. We're equipped with skilled technicians, state-of-the-art tools, and the expertise needed to tackle a wide range of exterior issues. From minor dents and scratches to major accident repairs, Meta Mechanics is your go-to place for restoring your vehicle's aesthetics.
Living in Dubai, with its diverse and often challenging driving conditions, it's crucial to have your vehicle in top shape. Choosing a professional auto body shop like Meta Mechanics in Dubai has several advantages. We understand the local conditions and can provide tailored solutions to keep your car looking and performing at its best.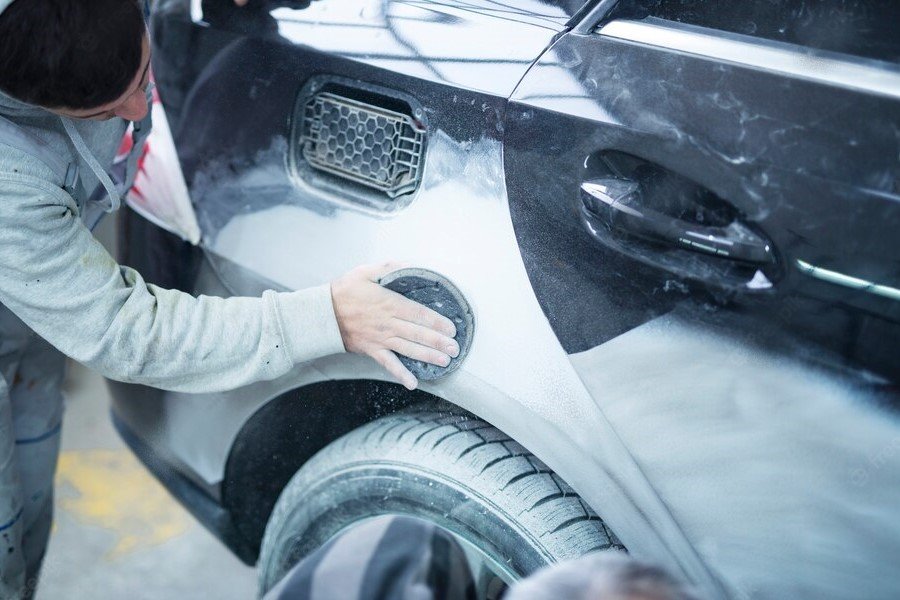 Auto Body Services Offered by Meta Mechanics
Following are some of the car body services, you will find at Meta Mechanics for all the car brands like Audi, BMW, Mercedes etc.
Accident Repair Services
Accidents happen, and when they do, you need a reliable partner like Meta Mechanics to get your vehicle back on the road. Our auto body shop in Dubai excels in collision repair services. We follow a meticulous process to assess, repair, and restore your vehicle to its original condition. Our advanced techniques and technologies ensure a seamless finish.
Car Painting and Car Dent Repair
Dubai's climate, with its scorching heat and abrasive sandstorms, can take a toll on your car's paint and lead to unsightly dents. Meta Mechanics, an auto body shop in Dubai, offers professional paint and dent repair services. We use high-quality paints and materials to protect your vehicle from the harsh environment.
Car Customization and Restoration
If you're looking to personalize your vehicle or restore a classic car, Meta Mechanics, an auto body shop in Dubai, has you covered. We can customize your ride to reflect your personality or restore vintage vehicles to their former glory, preserving the automotive heritage of Dubai.
Complete List of Auto Body Shop Services at Meta Mechanics in Dubai
Accident/Collision Repair
Chassis Repair
Car Painting Service
Calipers Painting
Peelable Paint
Rim Painting Service
Car Scratch Removal & Repaint
Car Dent Removal
Detailing-Polishing – Ceramic Coating
Car Wrapping Service
PPF (Paint Protection Film)
Head Lights Restoration
Car Bumper Repair
Frame Straightening
Windscreen Replacement/Repair
Hail Damage Repair
Car Paintless Dent Repair
Upholstery Services
Car Tinting
Under Coating – Rust Proofing
Interior Repair
Convertible Roof Repair
Dashboard Repair
Sand Blasting
Leather Repair & Restoration
Sunroof Repair
Why Choose Meta Mechanics?
Qualified Specialists Technicians
All Service Under One Roof
*Free Pickup & Free Inspection
*Free pick up within Dubai is contingent upon where the customer avails services from us, in case no services are sought, a minimum of 300 AED will be charged for pick up/ delivery and inspection service, depending on the location within Dubai.