Your car's air conditioner is a wonderful thing when it is working properly, but when it isn't, you're not going to enjoy riding around in your vehicle. If your air conditioner isn't working right or blowing warm air, schedule an appointment at our shop so we can take a look.
While the Dubai summer heat doesn't stay around as long as we'd all like, it can certainly make driving your car in summertime an unbearable experience if your air conditioning isn't working at its peak. Compressors can wear out, Freon can leak, and fans can break. These are just a few of the things that we make sure are in tip-top condition to keep you cool all summer long.
Three Signs Your Car Air Condition is Faulty
1.) Refrigerant Leak
When it's not under pressure, refrigerant immediately turns into a gas, making spills with refrigerant a one-of-a-kind occurrence. Due to their sealed nature, air conditioning units seldom if ever need to have their refrigerant levels adjusted. There is a leak that has to be fixed if the refrigerant level is low.
You won't see the telltale pools of fluid beneath your vehicle that indicate an antifreeze or oil leak if your air conditioning system springs a leak. Leaks aren't always catastrophic, and our expert technicians know to look for less obvious indicators, including greasy residue on or around A/C hose units or connectors, to find the problem.
2.) Worn Out Compressor
A compressor is at the heart of your car's air conditioning system, pumping refrigerant via ducts and filters to cool the inside. Compressor failure might be due to a multitude of factors, including contamination or faulty components, due to the complexity of the mechanism.
Here are some ways you can keep the air conditioner in your car running for a long time. For starters, even if it's not very hot outdoors, you should still use the air conditioner in your vehicle for around 10 minutes once a month. Most new cars make it simple to do so by switching on the air conditioner whenever the defroster is turned on, making the latter useful all year round. You may also bring your vehicle to our Dubai repair shop, Meta Mechanics, and our expert technicians will do a thorough inspection of your air conditioning system, making sure that you and your passengers are comfortable in any weather.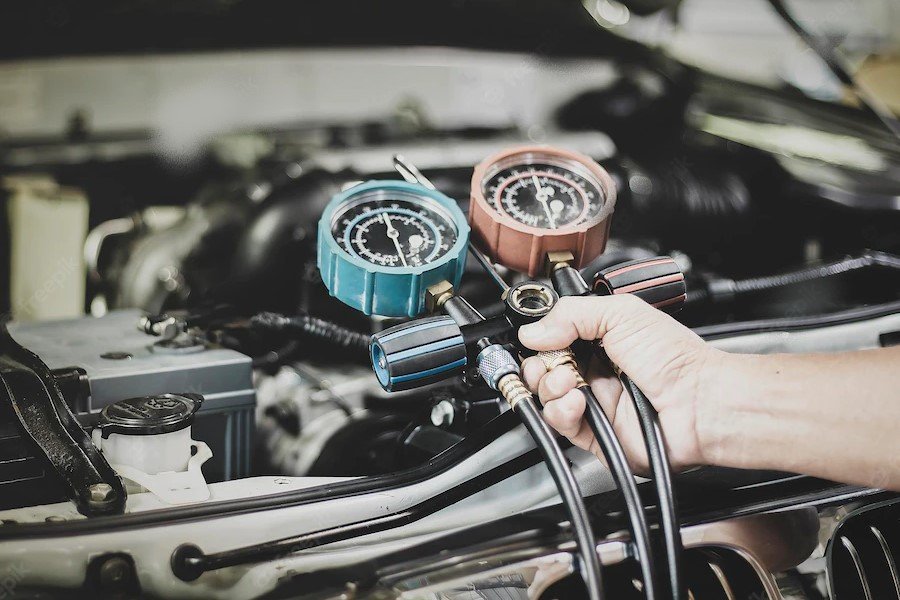 3.) Problems With The Electrical System
Safe functioning of your car's air conditioner is ensured by a complex network of wires, fuses, and relays. To avoid harm or hazardous circumstances for the operator, the system will shut down if one of these electrical components fails due to age or fault. Isolating these problems might be challenging without the right testing equipment and the expertise of the person making the diagnosis.
Find Out Why Meta Mechanics is Dubai's Favorite Auto Repair Center
At Meta Mechanics in Dubai, we can fix just about any make or model of vehicle, both international and domestic. We are experts in figuring out why your car's engine light is on and fixing it. The air conditioner in your vehicle undergoes a thorough inspection by our specialists to guarantee your comfort.